Make a Difference – We believe that as a Company and as individuals we have the responsibility to improve the quality of life for 
ourselves and our communities.
Have Fun – We believe that life is meant to be enjoyed.  Success comes more quickly by having fun while working toward our objectives.
Win – We believe with our talent and hard work we will achieve positive results.  Winning is the state of mind that embraces everything we do.
People Development – We believe in the unlimited potential that lies within all of us.  Acquiring new skills, and sharing with others, both personally and professionally, is the key to success.
Teamwork – We believe working together toward a common mission is the fuel that allows us to achieve extraordinary results.
Work at taco john's
…we fresh-fry our taco shells and nacho chips every morning; whip up a fresh batch of our signature sauces every day; and create unforgettable experiences by serving up "MEXCELLENT" menu items and delivering "WOW"-worthy customer service to our guests.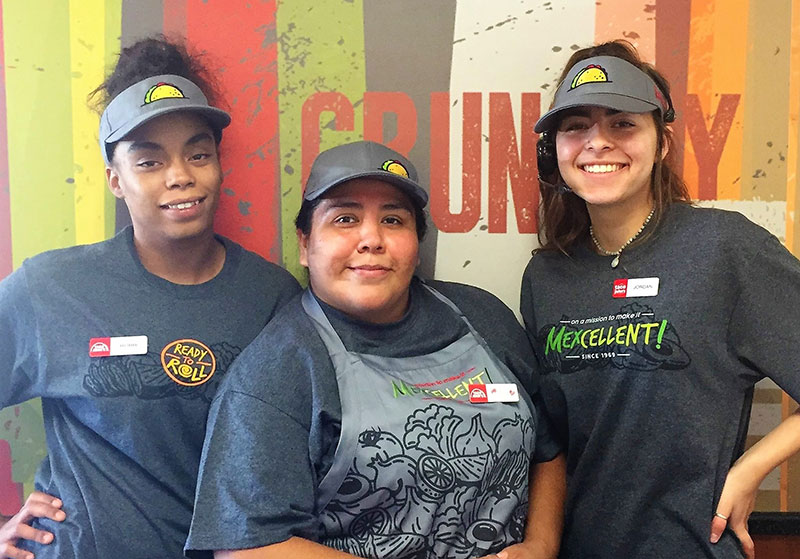 TEAM MEMBER • POSITION DESCRIPTION
As a Team Member, you will work a variety of job stations in the restaurant. You will work the front counter or drive-thru, taking customer orders, handling cash and/or handing out orders; in the dining area, ensuring customer satisfaction. You may work in the food production areas of the restaurant, such as the steamtable, prep area or fry station. These responsibilities require employees to follow directions for equipment and/or recipe and menu item preparation. Taco John's employees must know product abbreviations and portions.
Cleanliness of the restaurant is extremely important and it's a team effort, so you will also perform cleaning duties.
Taco John's Team Members will be required to work in a fast paced environment for period of up to 4 hours. The physical requirements are lifting, bending, reaching, stooping and standing. Must have the ability to lift up to 50 pounds with assistance when necessary.